We all know how exciting a road trip can be. It's about exploring new places, creating unforgettable memories, and enjoying the journey just as much as the destination. But what can make your road trip even better? The right truck!
Imagine cruising down the highway in a truck that's comfy, safe, and keeps everyone feeling just right. Sounds good, doesn't it?
Let's dive inside and find out what to look for when picking the perfect truck for your next road trip.
Cruise in Comfort and Confidence
Comfy Seats for A Relaxing Ride
If we're going to be on the road for hours, we want to do it comfortably, right? So, what makes a truck seat comfy? Look for seats with plenty of legroom, so you're not feeling cramped.
Next, check out the back support - the perfect seat will support your back and keep you feeling fresh even after long hours on the road. Lastly, adjustable settings are a must! They let you tweak the seat position until it's just right. Trust us; your back will thank you for it!
Climate Control for the Perfect Temperature
Whether you're driving through a sunny desert or a chilly mountain pass, dual-zone or tri-zone automatic climate control is your best friend. This feature allows passengers in different parts of the truck to set their preferred temperature. So, no more arguing over the AC setting! Everyone can enjoy their perfect climate and focus on the fun parts of the road trip.
Safety Features for Peace of Mind
Safety is another crucial feature to consider. Modern trucks come packed with features to make your road trip as safe as it can be. Features like adaptive cruise control help keep a safe distance from the car in front of you. Then there's the lane-keeping assist, which ensures you stay in your lane even when the journey becomes a tad tiring. And don't forget about automatic emergency braking – this feature can help avoid accidents by applying brakes when it senses danger. These features provide peace of mind, letting you enjoy your road trip to the fullest.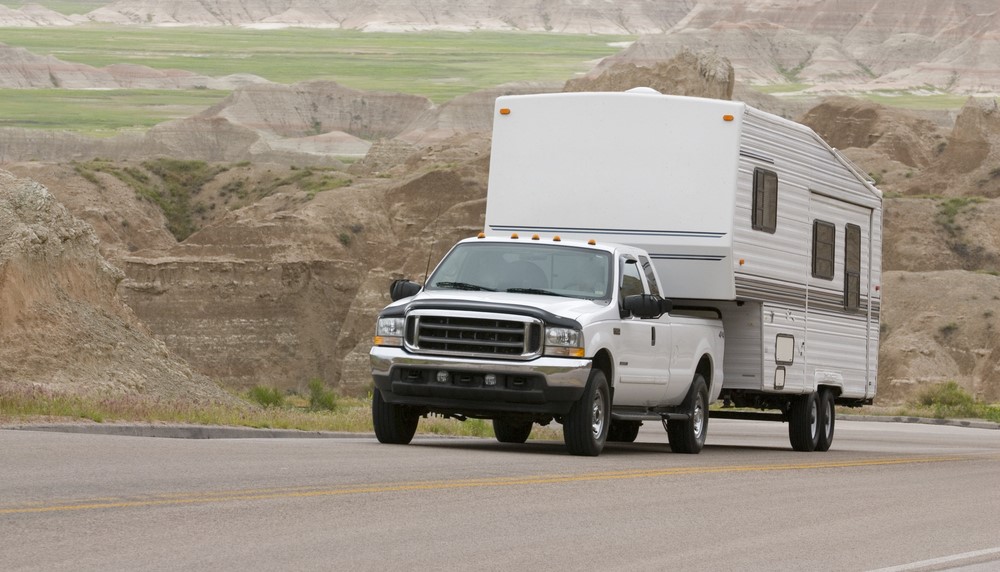 Unlock Adventure with A High Performance Truck
Fuel Efficiency: Stretch Your Miles and Your Budget
Planning to cover some serious miles? Fuel efficiency is a key factor in choosing your road trip truck. A truck that gets good mileage will not only keep your fuel costs down, but also extend the lengths of your adventure. Because who wants to spend all their time and money at the gas station?
Towing Capacity: Bring Your Adventure Gear Along
Got a boat or a trailer to bring along for the ride? You'll want to check the truck's towing capacity. This tells you the maximum amount of weight your vehicle can tow while still functioning safely and effectively, whether that's a boat for lake fishing or a camper for that perfect campsite. Ensure your truck can handle your gear, and you'll broaden your road trip possibilities!
So How Do You Find Out a Truck's Towing Capacity? Here's a Helpful Guide:
Check the Owner's Manual
The first place to look is in the truck's owner's manual. Here, you'll find the manufacturer's recommendations for the maximum towing capacity. This number represents the total weight of your trailer and its cargo that your truck can safely tow.
Look at the Door Jamb
On many trucks, there's a label on the driver's side door jamb that provides information about the truck's weight. This includes the Gross Vehicle Weight Rating (GVWR) and the Gross Axle Weight Rating (GAWR). These numbers can help you determine your truck's payload and towing capacities.
Know Your Truck's Configuration
Towing capacity can vary depending on your truck's engine, transmission, drive type (two-wheel or four-wheel), and whether it has a towing package installed. For example, trucks with larger engines, stronger transmissions, and four-wheel drive often have higher towing capacities.
Understand Trailer Weight
Remember, towing capacity isn't just about the weight of the trailer. It includes the combined weight of the trailer and its contents. If you plan to tow a boat, for instance, you'll need to know the boat's weight and the weight of anything else you plan to carry in it.
Visit the Dealer or Manufacturer's Website
If you don't have access to the manual, or if the label on the doorjamb is worn out, you can always visit the dealer or manufacturer's website. These sources will provide accurate and specific information about your vehicle's towing capacity.
4x4 Capabilities: Be Ready for Anything
Where the road ends, the adventure begins! If your journey might include off-road expeditions or harsh weather conditions, a truck with four-wheel drive (4x4) capabilities should be on your list. With 4x4, you'll have better traction and control, so you can keep the adventure going, no matter where the road takes you.
Reliability: A Trusted Companion for the Road
The open road is full of surprises, but your truck shouldn't be one of them. Research the model's history for reliability, because the last thing you need is a truck that leaves you stranded. A reliable truck means more peace of mind and more focus on making memorable moments on your road trip.
Pack It Up: The Value of Ample Cargo Space
One of the big advantages of road trips is the freedom to bring along all your favorite things. Maybe you have a suitcase full of clothes, a cooler of snacks, camping gear, or your beloved surfboard. Whatever it is, you're going to need space to fit it all.
When choosing your road trip truck, make sure it has enough cargo space to handle all your stuff. This will keep you organized, and ensure nothing gets left behind. After all, it's not a great road trip without your favorite adventure gear!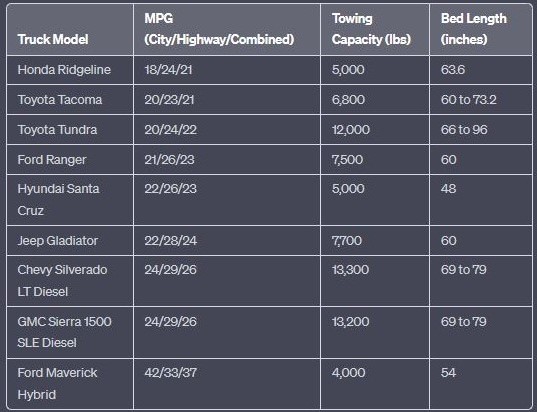 Embrace Outdoor Living with Ample Cargo Space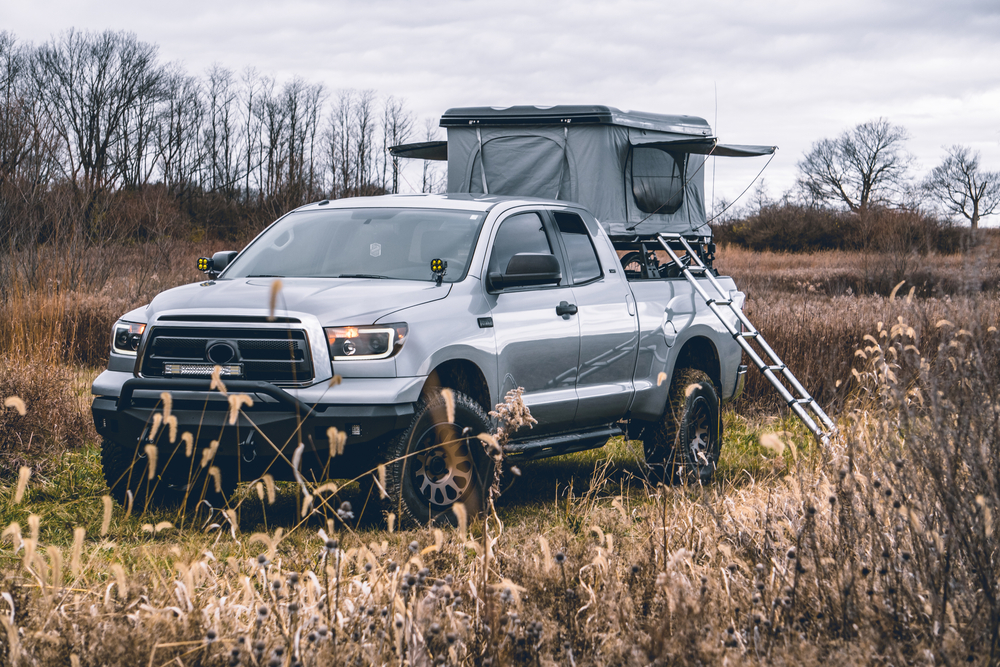 Sleep Under the Stars: Camper Shell or Truck Bed Tent
Now here's a feature you might not have considered - a camper shell or truck bed tent for your truck. This transforms your vehicle into a cozy sleeping spot, giving you a cost-effective and convenient way to camp out during your road trip.
Imagine parking by a lake, setting up your truck bed tent, and sleeping under a blanket of stars. Or maybe you're in a camper shell, safe from the elements as a gentle rain patters on the roof. Either way, you're getting a unique camping experience and saving money on hotels! Here at Kunes Auto Group, we have a range of trucks that provide ample cargo space and options for camper shells or truck bed tents.
Upgrade Your Road Trip Experience: Truck Features You'll Love from Navigation to Infotainment
Never Miss a Turn: Navigation Systems
Ever found yourself lost in the middle of nowhere? With a good GPS system, you can wave goodbye to those road-trip wrong turns. Many of today's modern trucks come equipped with navigation systems that do more than just guide your path. They connect with your smartphone, offering real-time traffic updates, locating points of interest, and even suggesting alternate routes. Now that's a road trip game-changer!
Road Trips Just Got Way More Fun: Infotainment System
Long stretches of road can sometimes be a little, well, long. That's where an impressive infotainment system comes in. It's not just about jamming to your favorite playlists anymore (though that's important too!). Look for features like a responsive touchscreen interface, Bluetooth connectivity, and a robust audio system.
But the fun doesn't stop there. Smartphone integration, like Apple CarPlay and Android Auto, lets you access your favorite apps, music, messages, and more, right from your truck's screen. With these features, your road trip can be as entertaining as it is adventurous!
At Kunes Auto Group, we're proud to offer a huge selection of trucks equipped with the features you need for the ultimate road trip that will make life-long memories. Swing by and let us help you pick the truck that'll make your next road trip the best one yet.
Remember, your journey is as important as the destination, so make it count! Safe travels and exciting discoveries from all of us at Kunes Auto Group!