Is the Stout Making a Return?
Toyota hasn't said "yes" or "no", but there are some clues.
Sources have confirmed that in 2022, the name "Stout" was registered by Toyota in Argentina. Plus, Toyota's top executives have indicated their interest in the compact truck market.
Let's dive deeper into the 2024 Toyota Stout - Toyota's newest brainchild that promises to redefine the compact pickup truck experience.
What's New with the 2024 Toyota Stout?
Toyota has a legacy of building sturdy and reliable trucks, and the 2024 Stout is no exception. With a tough-looking exterior, this truck is perfect for both heavy-duty tasks and fun adventures. Whether you're driving through city streets or off-road trails, the Stout promises a smooth ride every time.
Sneak Peek into the Design
You can expect LED headlights, modern door handles, stylish wheels, and much more. Plus, with tech features like Apple CarPlay and Android Auto, this truck is built for the modern driver.
Color Me Impressed!
The 2024 Stout is set to come in some vibrant shades:
Blue Crush
Barcelona Red
Magnetic Gray
Wind Chill Pearl
The New Stout's Features
Safety First
Toyota never skimps on safety. The Stout will have:
Lane Departure Warnings
Adaptive Cruise Control
Forward Collision Warning
Emergency Braking System
A Peek Inside
The Stout's interior is all about luxury and convenience. There's ample space for everyone, plush seating, and a state-of-the-art touchscreen filled with features.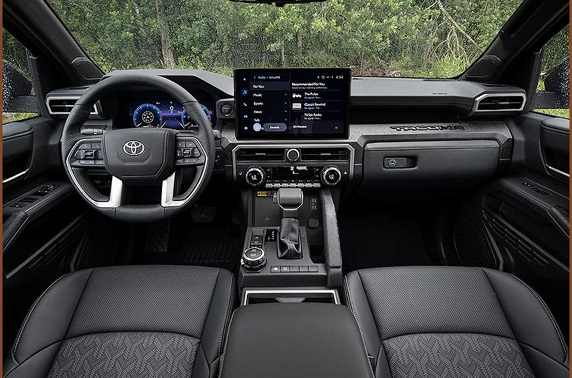 Exciting Features Alert!
Step inside, and you'll notice a focus on function and comfort. There will be cozy seating, easy-to-use controls, and a top-notch infotainment system to keep you connected and entertained. Wondering about the Stout's cool new features?
Here's a quick list:
WiFi hotspot for on-the-go connectivity
5G support to keep you connected faster
Smart key system for easy access
Push-to-start button for convenience
A booming sound system for music lovers
A huge 14-inch touchscreen for easy control
... And that's just scratching the surface!
How Much Power Will It Have?
If the new Stout uses the RAV4's engine, it might have around 203 horsepower. But if it borrows from the 2023 Highlander, it could reach up to 265 horsepower. This could make it stronger than the Ford Maverick and more fuel-saving than the Hyundai Santa Cruz.
Will There Be a Hybrid Stout?
Toyota is a champion in hybrid tech. So, with the Ford Maverick boasting a hybrid model, Toyota's Stout might do the same – possibly with power and fuel savings that impress! Reports hint at the Stout being a hybrid wonder with an impressive mileage. Imagine cruising over 500 miles on a full tank! (Real-world mileage might vary based on various conditions.)
When Can You Get One?
While Toyota is keeping secrets, the official release date hasn't been announced. However, word on the street is early 2024 as a 2025 model. Stay tuned!
Price Tag and Options
Exact pricing details are still under wraps. However, with competitors priced around $23,400 to $26,650, the new Toyota Stout might have a starting price of about $23,000 to $24,000. Remember, for those not keen on waiting, Toyota's got other upcoming models like the 2024 Tundra and Sequoia.
Cheers to The Future of Pickups!
So, truck fans, buckle up! The Toyota Stout might be rolling back into town and gearing up to be a big hit. Packed with innovative features and Toyota's trusted quality, it's bound to be a top pick for many truck lovers. We can't wait to see how it shakes up the compact pickup world!
Stay tuned with Kunes Auto Group for the latest updates and news on your favorite trucks.